The Vine on Middle Creek
Five Star Luxury Meets Hill Country Flair
Experience Fredericksburg's Newest Retreat
A Waterfront Escape & Working Vineyard
NOW OPEN for individuals and groups, sleeping up to 12 people.
At the Vine on Middle Creek, our brand new lodging and recreation hall projects are now complete. Just north of Fredericksburg, Texas, our unique vacation rental and event space offers a great option for a couple's getaway, weddings, reunions, and any event up to 12 people. Our working vineyard lets you experience our emerging local wine industry, guided by the on-site owners with extensive grape and wine experience. As you pass through the vineyard on the drive to the Vine, you'll weave among the oaks to an open courtyard strung with warm, inviting lights. We welcome you to experience what visitor after visitor have raved about, review after review.
The Perfect Place for Your Hill Country Getaway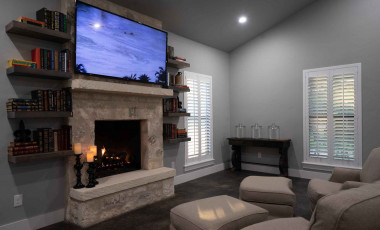 The Lodge
Our common area building offers room to gather, a beautiful sitting porch for relaxing, a kitchen offering a hot breakfast every morning, and more in an exquisite old-growth oak grove. You might even find the owners cooking up a special pairing or making new friends around the fireplace.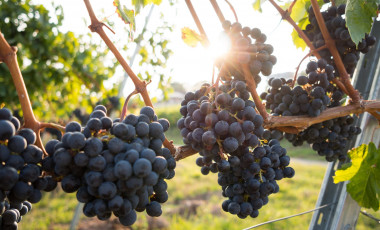 The Vineyard
The Vine on Middle Creek is not only a great retreat property, we're also a working vineyard, growing almost half a dozen varietals that supplies grapes to William Chris Winery. We'd love to take you on a fun and educational tour of our fields of vines.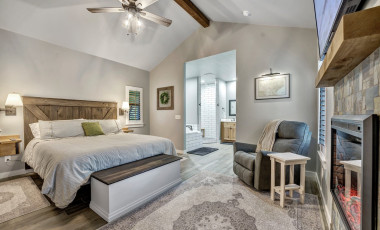 Luxury Accommodations​
Our brand new accommodations offer comfortable and well-appointed spaces for your Hill Country getaway. Attention to detail is the standard, with Egyptian cotton, porcelain tile, soothing jacuzzi tubs, electric fireplaces, and much, much more.
Our Accommodations
The newly built lodge with cozy, modern-farmhouse details creates the feel of home for individuals or groups of up to 12 people.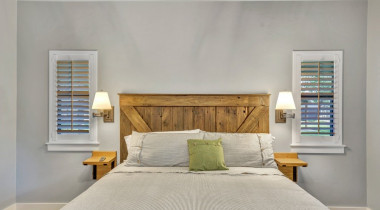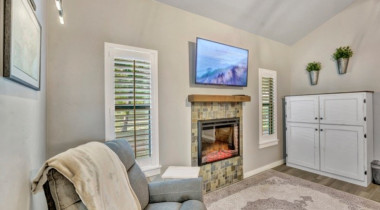 Room:
Cottage King
Size:
580 sq ft
Beds:
1 King Bed
Our six new cottages are detailed with luxurious egyptian-cotton linens, a sizely shower and jacuzzi tub perfect for two, state-of-the-art TVs, well-considered rugs to kick off your shoes and go barefoot, and the perfect blend of privacy and community. Our "to die for" breakfast (just look at our reviews!) is ready every morning at 8:30.

Amenities
Free high-speed WiFi
8 minutes to downtown Fredericksburg
Courtyard fire pit perfect for roasting s'mores
Nourishing breakfast options daily
Personal behind-the-scenes vineyard tours
On-site catering kitchen
Tesla charging station
Concierge services for unlimited comfort
Sleeps groups up to 12 people - perfect for reunions, weddings, and parties
What Our Guests Say...
Some of our latest reviews for The Vine on Middle Creek
Come stay here! My husband and I came for our honeymoon and absolutely loved our stay. Craig and Cass are EXCELLENT hosts and will provide everything to help make the stay perfect. The property is beautiful. It was the perfect distance from town and we ended up just wanted to come back and relax on the front porch swing more than we wanted to go shop in town. The room was clean, spacious, and cozy and provided such a great area to relax. And they make breakfast each morning! It was such a treat to sit out on the patio with a delicious breakfast and relax before heading into town. They are wonderful hosts and you will not regret coming...
Abby, Keller, TX
From airbnb.com - June 2020
What can I say other than this is a MUST stay in Fredericksburg. We loved our room, our host (including the doggies), the delicious breakfast, and the stunning views of the hill country. Such a relaxing stay and everything that we needed was included. The fire pit at night, the porch swing, and the delicious pound cake that we can't get over were a few of the highlights of our stay. The only downside of our stay was not staying longer! Will definitely be back and for a longer stay. Thank you Craig and family for our wonderful stay, can't wait to be back!
Jackeline, Houston, TX
From airbnb.com - June 2020
Upon walking to our cabin Craig greeted us and we felt very welcome. The room was very clean and felt like home. No complaints whatsoever. Breakfast in the morning was a big plus to our stay. It was delicious and would not reccomend sleeping in and missing out. Overall we will be back when we come back to fredericksburg. Great hospitality.
Daniel, San Antonio, TX
From airbnb.com - June 2020
This place is so amazing! The hosts offered us cake and wine in the evening, and amazing breakfast in the morning! They also have a cute corgi that made an appearance at breakfast! Their hospitality was amazing! This is an awesome place to get away and is beautiful! Relax on the porch swing, sit by the fire, or play corn hole! The rooms were beautiful and clean! It's also really close to downtown Fredericksburg! I hope we can come back!
Catherine, San Angelo, TX
From airbnb.com - June 2020
Outstanding bed and breakfast. Very personal service with attention to every detail. Breakfast was phenomenal every morning!! Craig and Cass are perfect hosts who attend to your every need! The grounds are immaculate and our room was clean and decorated to perfection!! Amazing views anywhere you look. Peaceful and relaxing in the heart of hill country.
Beth, Marietta, GA
From airbnb.com - June 2020
Our stay at this B&B exceeded our every expectation! We celebrated our anniversary while there and a chilled bottle of champagne, along with a rose, awaited us upon arrival. The cabin was huge and perfectly outfitted with every possible comfort imaginable - Including a comfy recliner and blanket! The "fireplace" and soft music greeted us as we entered. Comfy adjustable mattress (with massage feature!) and wonderful linens made for a restful sleep. A full breakfast was served in the morning Before we left. Exquisite! Don't miss an opportunity to stay here!
Julie, Houston, TX
From airbnb.com - June 2020
This place was , and is the perfect getaway location whether your celebrating your marriage, or simply with family. The beautiful trees, green grass, new lodge interior and outside benches are just the beginning! This is the spot where you can enjoy the busy vibe of downtown Fredrickburg , and at the end of the day retreat with a short drive to complete tranquility and relaxation!!! My wife and I were extremely pleased with the hospitality that we received from arrival to departure. Not really wanting to put our feelings too much onto this review in hopes of keeping it as a true hidden gem for future availability , we could not help but...
Daniel, Edinburg, TX
From airbnb.com - June 2020
This place is even better than we expected. Craig and Cassandra have gone over the top with amenities and customer service. Their passion is reflected in everything about the place. We can't wait to bring others out there with us next time. The Vine is sure to book up very quickly and be a huge success if they continue to do what they do.
Eugene, Lorena, TX
From airbnb.com - June 2020
Such a perfect place for resting & relaxing! It's not too far from Main Street and easy to find. Peaceful, quiet, and private. The cottage was immaculate. The hosts were very accommodating. Breakfast was delicious. It's the perfect place to stay when visiting Fredericksburg.

Denissa, Brownfield, TX
From airbnb.com - May 2020
This place is amazing. The hosts are outstanding and the rooms are beautiful. We travel to Fredericksburg often and this was our nicest stay yet. All details of the rooms were well thought out and they provided much more than necessary. We couldn't have been happier with our stay and plan to go back very soon!

Christie, Austin, TX
From airbnb.com - May 2020
Thoroughly enjoyed our visit to The Vine at Middle Creek! This was the perfect location for getting away from the business of Fredericksburg. Superb amenities, and beautiful decor and grounds of the property. Breakfast was great everyday and Craig went above and beyond to help make our visit enjoyable! Cannot wait to visit again!
Ellen, Gonzales, LA
From airbnb.com - May 2020
The Vines are Calling. Pack Your Bags.
Events at The Vine on Middle Creek
The Vine on Middle Creek is perfect for small wedding, corporate, family, and other kinds of gatherings of up to 75 people. Please contact us for more information.